By Comrade Acorn
---
The past two weeks California Hammers showed solidarity with California Educators for Medical Freedom (CEMF), a non-partisan group of Los Angeles Unified School District (LAUSD) educators and supporters, as they protested against a recent Order of the State Public Health Officer.
This order which is set to go into effect on October 15th states that all workers at public and private schools serving students K-12 must show proof of having got the jab, or else be forced to resign. Partially vaccinated staff members have until November 15th to receive their second dose of the vaccine.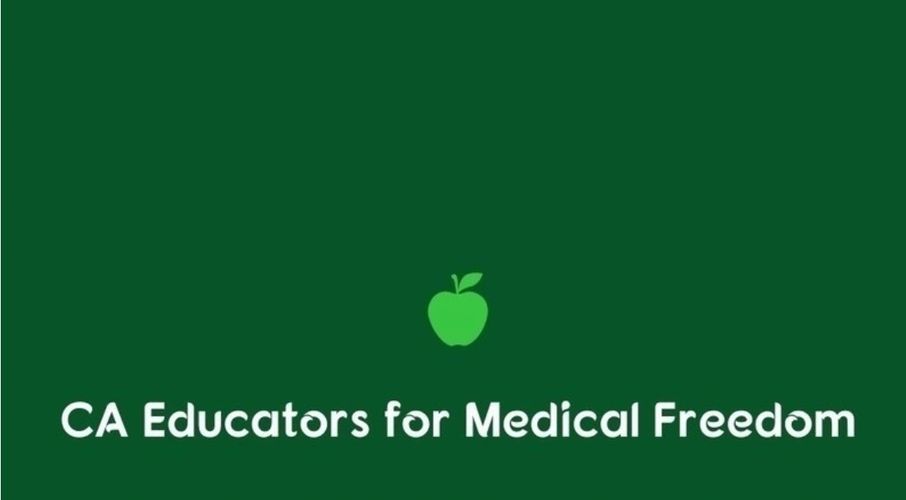 This mandate affects more than just educators: food service workers, bus drivers, special education assistants, and other staff members from the Colonized poor and working class (and yes, even the saltines) are being fired and left without a job in the midst of a global pandemic and economic crisis.
Staff members who do not wish to get the vaccination may apply for religious or medical exemption, but LAUSD has declined to report how many exemptions have been approved.
This mandate succeeded in forcing people to get the jab since LAUSD reported that 97% of teachers are now vaccinated or partially vaccinated.
K-12 public mis-education gets the crumbs of the state's budget; LAUSD is facing increasing budget cuts at a time when reports show a rise in homelessness and mental health problems in LAUSD students.
And now they are coming after our children. LAUSD parents are suing LAUSD for a student jab mandate despite there not being an FDA-approved covid-19 vaccine for children under 16 years of age.
One of the educators that we talked to at the protest is Carla*, a LAUSD elementary school educator in a working class neighborhood. She had been working for almost two decades before she was fired, per protocol, without any discussion of when she would be able to come back to work, or on what conditions.
Carla is a passionate, hardworking and dedicated educator to her students and the overall academic environment at the school. She was recently recognized with a national award in mathematics and science for her display of "subject mastery, appropriate use of instructional methods and strategies, lifelong learning and leadership in education outside the classroom," according to the state Department of Education.
But none of this matters to the colonizers and neocolonial sellouts at LAUSD! They don't care about giving our children quality education!
Kelly Gonez, President of the Los Angeles Board of Education since 2020, stated earlier this week at the North Hollywood Neighborhood Council general meeting that vaccine mandates are part of a "multifaceted plan to slow the spread of Covid-19."
Gonez is just another sellout piggybacking on her parents' immigrant story and poor working class upbringing to win the trust of the Colonized masses. Don't be fooled! She is selling out the Colonized poor working class for scraps in return for the conditional approval of white power, rather than using her power to protect the lives and livelihoods of working class ex-LAUSD employees.
The colony is too focused on filling the pockets of their top extractors—in this case, Big Pharma's pockets—and will continue to do so until we unite as Colonized people and take back control of not only our educational system but the system as a whole.
The empire is never, ever going to serve the interests of the poor and working class.
LAUSD's decision to uphold the order comes at a time when LA pig Villanueva announced that he will not be enforcing LA County's mandatory vaccinations for all government employees at the sheriff's department.
Top pig Villanueva's decision was based on his concern about losing too many members of his gang of filthy pigs.
This goes to show that the colony's priorities are not education of our youth, retention of superb staff members, or protection of livelihoods, but rather the priorities are maintaining a white power system trained to kill Colonized civilians on baseless charges. This is just another symptomatic ill of colonial-capitalism, a government system that allows for democratically agreed upon decisions to be overturned by a single, outlier individual.
Once again we see these kkkops making their own rules, putting the Colonized masses at risk just to protect their own. As if any of us feel safer knowing that these pigs kept their jobs!
It's time to take back dictatorship (absolute control) over our lives! We refuse to be guinea pigs for Big Pharma and the white power system that is forcing us back onto the plantation without proper safety measures.
You can do that by joining us here at Black Hammer and protesting with us against the CDC, FDA and Dr. Fauci alongside our friends from CEMF! Black Hammer will continue to stand up against Big Pharma, leading the Truth Movement on the ground wherever we are!
Protests against vaccine mandates for LAUSD staff and students to be held at various locations in LA County on Monday Oct. 18th.
Go to educatorsformedicalfreedom.com to sign LAUSD educators' petition against the vaccine mandate and keep up with the Black Hammer Times to stay updated.

Land Back!

*Name has been changed for privacy.
---
Use your writing talents to further the Liberation of all Colonized People by joining Black Hammer Times today! We are looking for journalists, reporters, poets, and more, so do not worry; there is a spot on our team for you.
You can also submit your work to us, and as long as it unites with our 4 Principles of Unity, you will see your writing published on all of our platforms.
We are also looking for donations to solve the water crisis in amerikkka which continues to take the lives of innocents to this day. Donate to our CashApp at $BLACKHAMMERORG so that we can provide clean water to Colonized communities worldwide!
Donate to Build Hammer City